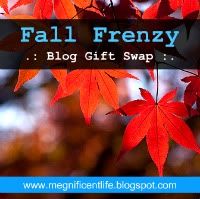 So I was totally excited when I stumbled across Meg's blog and realized she was doing a Fall Frenzy Swap! It was actually already closed when I encountered the post but I thought I would ask her anyway if she still had room for one more person and she made room for me! Isn't that so sweet?!
I had the most amazing time shopping for my Fall Frenzy buddy Dani and I hope she likes her gifts! I just got her gifties in the mail yesterday and I just love them! I mentioned to her that I love turquoise and cupcake holders and she found the most adorable items! Take a look below.
She must have read my mind or I must have mentioned that I LOVE Bath and Body lip gloss because that is exactly what I received! It makes your lips smell so good and your lips feel so moisturized too!
I'm also loving my turquoise Coldwater Creek scarf. The color is just perfect for me and it's so soft! As soon as it is cold enough you better believe I'll be wearing this adorable scarf.
Loving the cupcake holders and check out her cute little note with the leaves! This gives me the perfect excuse to bake more cupcakes. Yes.
I love swaps. It's a great way to connect with new bloggers and receive snail mail that brings an instant smile! Thanks Meg for hosting this giveaway and thanks Dani for the lovely gifts!