Enjoy a guest post from the lovely Ash - here are some great gift ideas for the holidays!
**************************************
With the holidays fast approaching, it is time to start thinking about shopping for family members. Most people shirk their shopping responsibility by buying lame gifts that serve no purpose, but not the fashionista! If you are someone who loves to be stylish at all costs (pun intended), then read on for ways to share your love of haute couture with those who are a fashion faux pas in the making.
My Mom Dresses Too Frumpy!
If you're anything like me, your mom undoubtedly has a wardrobe full of mom-jeans, tacky sweatshirts, and other questionable attire. After all, these were all the rage when she bought them, and we all know that fashions recycle themselves, right? Wrong! If your mom dresses like …well … a mom, then it's high time to break her out of her fashion rut. Buy her a few timeless classics, such as a chic turtleneck dress or a snazzy pair of knee-high boots, or stuff her stocking with a jewelry item that will encourage her to upgrade her wardrobe. After all, you can't very well wear a light-up reindeer sweatshirt with a glittering bauble, can you?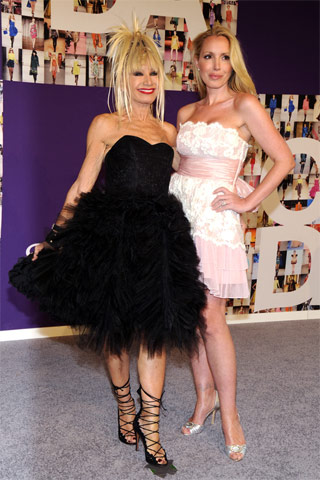 My Dad is Stuck in the Seventies!
Does your dad still wear Wrangler jeans and wide ties? Bring him into the 21st century with a few stylish items, such as a leather jacket or a trendy shirt and tie combo. If your dad has a vast collection of ugly sweaters, replace them with a smart suit that would make any dad dapper. Finally, don't forget accessories! Whether you are looking for cuff links to go with his new suit, or a snazzy pair of aviator glasses, your dad will be sure to welcome an artistic touch to his wardrobe.
My Sister Dresses Too Young for Her Age!
So, your sister is thirty, but dresses like she's twenty. Sound familiar? If you're tired of gazing at your sibling's cleavage, or want to show her that it's possible to be sexy while still maintaining her dignity, go for a wrap dress and a pair of heels, or a pencil skirt paired with a cashmere sweater. Alternately, you can buy her a soft wool shawl that will cover her up while still making her feel feminine. It is possible to cover every inch of skin while revealing every luscious curve, so be creative and teach your sister how!
My Man Still Dresses Like He's in College!
If your man is perfect in every way, shape and form aside from his atrocious wardrobe, help him go from college boy to debonair man with a few thoughtful purchases. Swap his hoodies and T-shirts for a sharp sweater vest and button-down. If he is violently opposed to the preppy look, go casual with skinny cords and a hooded sweater. Is he all about comfort? Invest in a new pair of Converse sneakers, which — believe it or not — can still be worn with most casual outfits. If you are feeling particularly brave, or have a bad boy on your hands, look for anything black leather (jacket, boots, even some man-friendly accessories). Show him how suave he can look, and he'll be more likely to take you out for a night on the town!
And What About Me?
Too often, you buy, buy, buy for your loved ones, only to receive paltry gifts from them. Why take the chance? While you're shopping for others, take the time to pamper yourself with a few necessities. Splurge on a new handbag, or buy those peep-toed pumps you've had your eye on. If you're feeling super indulgent, invest in a few luxurious wardrobe additions, such as a new sweater dress or velvet slacks (perfect for holiday parties).
As you can see, it's possible to improve your loved one's style impairments while satiating your desire to shop. The key is to know your family members' wants and needs, and to buy according to their taste, but also according to what is fashionable at the time. Don't give up on them, and they'll thank you for it!
**************************************
Have a great weekend Ocean Dreamers!