Happy weekend Ocean Dreamers!
There's no secret that I love photography of the ocean, so when Lauren asked to guest post I couldn't wait to read all about her tips! I'm headed to CA in a few weeks and I can't wait to apply these tips and take some of my own photos.
Thanks Lauren!
**************************
The ocean seems like an obvious place to take gorgeous pictures, but this natural setting can present challenges for some photographers. Bright light, flat scenery and crowded beaches can make it difficult to get the shot you want. However, there are some tips you can follow to increase your chances of taking great ocean photographs every time. Read on to find out what those tips are:
-
So often, people become distracted by the wide shot beauty of the shoreline and water, they forget that the beach and ocean contains hundreds of tight shot opportunities. Take up close pictures of the rocks, shells, flora, fauna, crabs, seagulls, boats, sand castles that are all around you. Even the ocean water crashing onto and ebbing away from the shoreline makes great photo opportunities. Also, don't ignore the people on the beach. Action shots of people sunbathing, swimming, building sandcastles, walking or playing make for great photographs.
-
If you are taking a shot with the horizon in it, make sure that the horizon is straight (unless you want it to be at an angle). You can achieve this by having a steady hand or by using a tripod.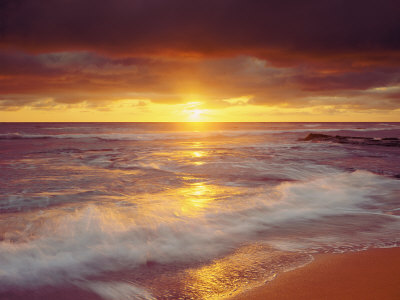 -
Shoot at sunrise or sunset for optimum lighting. When the sun is high in the sky, your photos will appear too bright and washed out. Shooting in the early morning or evening opens up opportunities for beautiful sunrise or sunset photos, softer lighting for photos of people and objects and less glare. Another great time to take photos on the beach (and anytime, really) is when the sky is partly cloudy. Again, the lighting created by partly cloudy skies is not as bright, so the colors in your photos will be rich and less washed out.
-
If you want to capture splashing water or crashing waves, use a tripod and a long zoom SLR camera. Set your tripod up away from the splashing water and use your camera to zoom in on the subject. In order to capture the water perfectly, use a slower shutter speed and a smaller aperture setting. This may require you to take several test shots to get it right.
-
If you are still having trouble with over exposed photos or you want to shoot in midday, use a polarizing lens to filter out light. A polarizing filter reduces reflections from non-metallic surfaces and makes colors appear richer and more saturated. It can be used for both color and black and white photography.
-
If you want to take underwater photos, you will have to purchase a camera that can be used with an underwater housing unit. These can range in price, but one of the best low-range cameras that can go underwater is the Canon G12. The camera goes for $500, and the underwater housing kit sells for $240.00. You would use the same camera techniques underwater as you would above water; except you will need to use force flash when shooting photos underwater. An external strobe will help you take even better photos underwater. Also, if you are having trouble getting focused shots, try using the automatic underwater setting on your camera. Lastly, it is best to get as close to your subject as possible when taking underwater photos.
Bio:
Lauren Phillips has been a professional event photographer for 16 years and also owns the site Photography Degrees. She likes to write articles about everything photography.