Isn't it nice to think about going on vacation during the summer? I think so, hence why I'm enjoying my time in Arizona! While I'm soaking up some sun, enjoy another guest post, this time by Tessa!
***************************
Greece
, southern Europe, is the destination for summer holidays this year. With clear turquoise waters, white sand beaches, lively tavernas, some of Europe's oldest sites, and delicious food, who could possibly resist? The only real question is where in Greece you choose!
For me; Crete wins hands down. It manages to combine the perfect combination of the best aspects of Greece holidays, all on one island. Here are four things not to be missed on the fascinating island:
Landscape and Scenery
Whether you arrive on the island of Crete by water or by air you will be struck by the dramatically diverse landscapes of this Mediterranean gem. A long, elongated island, Crete's landscape ranges from palm forested beach to high mountain ranges, with gorges and rivers in between. Narrow cobbled streets in traditional fishing villages along the shoreline make a delightful stroll in the daytime or evening.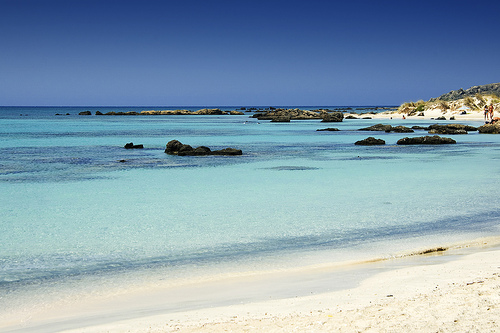 Activities for All
Holidaying in Crete is a fantastic way to get active thanks to the plethora of things to do both on land and on the water. Hiking, cycling, and adrenaline sports are found all over the hilly inland areas. The crystal clear waters make snorkelling and diving a real treat, with beginner to advanced lessons widely available. Swimming and sailing are also popular, as are the somewhat less strenuous cruises and spa treatments.
History and Culture
As the centre of the Minoan civilisation, Crete has ancient history in abundance. The ruins of an ancient city at Knossos, and the Archaeological Museum of Iraklio, are both fascinating insights to the roots of Western civilisation and not to be missed. Crete also has cultures unique even from the rest of Greece; traditional poetry and music are distinct to the island, and can be enjoyed at local tavernas.
Cretan Tavernas
The fresh produce and simple Greek cooking is world famous. Being an island, fish and sea food are common, served with mouth-watering salads, cheeses and breads. Traditional Cretan Tavernas are the best places to eat; the produce is fresh and local, seating often outdoors, the atmosphere is lively, and generally dining is accompanied by local live music. The Tavernas and bars stay open long in to the night, with festivities often spilling out on to the warm streets and terraces. Be sure to try the locally produced drink of Ouzo – but not in too larger quantities!