I'm on my way to California to have some fun with my mom and aunt for our annual girl's weekend! So while I'm enjoying some ocean dreams, please enjoy a guest post!
*************************
Fashion trends come and go. However, skinny jeans for women are showing no signs of losing their appeal just yet. Why? With a combination of sexy style and timeless versatility, the skinny variety still turns heads. In addition, skinny jeans remain suitable for almost every occasion.
Indeed, designers aren't about to stop putting their own twist on the skinny jean. Low rise and super skinny leg are just some of the different types available.
Apart from simply looking great, skinny jeans also produce that marvelous slimming effect. In that regard alone, it's hardly surprising that they're still flying off the shelves and into wardrobes.
Go darker with skinny jeans and get ready to hit the town
Faded jeans seem to go in and out of fashion pretty quickly. But dark denims are always a hit. This also applies to skinny jeans. If opting for dark denim then the skinny variety is perfect for when you're hitting the town.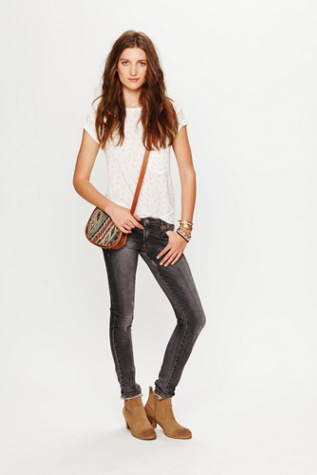 Think about it: if you're going for a night out a dressier, a darker pair of jeans is ideal. They combine both comfort and style.
All you need to add is a smart belt and a pair of boots or heels. Hey presto, you've now got a figure flattering focal point guaranteed to turn heads.
Dressing up or down no problem in skinny jeans
The truth is skinny jeans look great whether you choose to dress up or down. Like leggings, they hug the body and show off those lovely curves. And you can tailor a number of different looks and styles around your chosen pair.
Finding the best skinny jean type to match your requirements doesn't have to be too difficult, either. Designs such as the 'Breathless' aim to offer ladies the ultimate ankle length skinny. Meanwhile, denim legging styles such as the 'Vienna' maintain that classic skintight fit.
Step out in style in a skinny-inspired outfit
Undoubtedly, sticking on a pair of
skinny jeans
is going to accentuate and draw attention to your bottom-half. When you're wearing flattering denim then that's no problem.
But it does mean you have to ensure you've got some cute shoes on too. The ankle length skinny is going to also place emphasis on your feet. Buy why stop there? A skinny-inspired outfit is one of the hottest trends right now. For example, matching your skinny jeans with printed tees is a great way of showing off your personality. Alternatively, V-neck tees wonderfully compliment jeans while slim collarless shirts also work well.
The versatility, unrelenting popularity and enduring sex appeal ensure designers aren't about to lose faith in skinny jeans. If worn correctly women of all shapes and sizes can look and feel amazing. As already hinted at, another major advantage of skinny jeans is that they allow ladies to show off their footwear.
The cut of the jean draws attention to the ankle. So, get ready for some figure hugging style and the chance to proudly display some gorgeous heels or stunning boots.
About the author
Lisa jane is an online freelance copywriter who has covered a number of subjects relating to
skinny jeans
and women's fashion.