This is a Sponsored post written by me on behalf of Hollister Co for SocialSpark. All opinions are 100% mine.
For as long as I can remember I have always been a Hollister Co girl. Whenever I put on my Hollister clothing it always has this magical way of making me feel like I'm near the ocean even when I'm not. All of their clothes are so comfy and cute, and many of their articles of clothing also have a California theme such as a Southern CA city or saying. I love their themes because they usually reflect places I've been to and the clever sayings make their clothing even more creative. Whenever I head into Hollister I always find something new to buy as well -- it's all too tempting!
In fact, there are so many things I want on the Hollister website right now and since Black Friday will soon be here, if you love Hollister as much as I do (how can you not?!) it's time to start planning not only what you will be wearing for the most epic deal of the year (at Hollister on Black Friday, duh!) but what you will be buying on Black Friday as well. Most mall doors open up at 8pm on Thanksgiving night so it's time to get very excited.
Psst...Hollister has not released their Black Friday deals yet, but soon they will so stay tuned! Plus, you better believe their will be HOT lifeguards at the Hollister doors that will entice us to buy even more fab Hollister clothes! Can we say YES, please?! :)
While waiting for Hollister to reveal their Black Friday deals and stay up to date on their latest items, Like Hollister on Facebook, Follow @HollisterCo on Twitter, and Follow @HollisterCo on Instagram!
P.S. you can download the Hollister App so you can unlock the new Black Friday Beach Party Whistle! ;)
For a Black Friday Hollister inspirational laidback 90's outfit, I put together this ensemble below (actually it has two outfits in one). The links to my can't live without Hollister outfits and wish list are below the collage too. What's not to love?!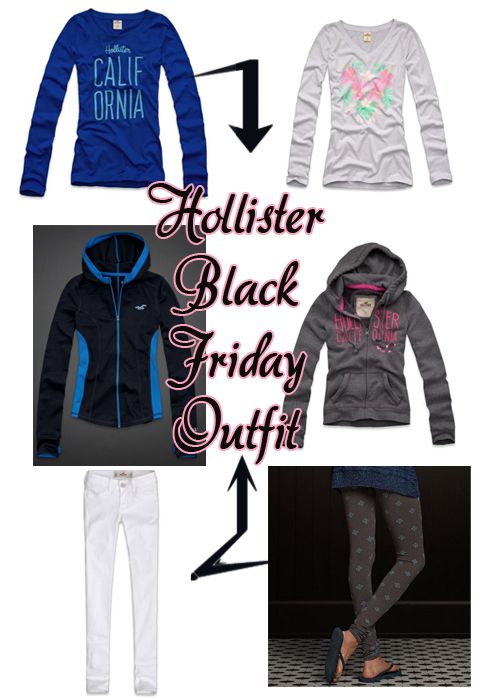 DIXON LAKE T-SHIRT // EL PESCADOR t-sHIRT //
bay park hoodie // Hollister sport hoodie //
LEgging // Hollister Jegging //
So what do you plan on wearing for Black Friday
when you head to Hollister and
what items are on your wish list?
Don't forget that Hollister offers some fantastic items that you should put on your wish list now including flannels, sweatshirts, leggings, sweaters, and more. Whether you're at the ocean or headed home to family during the holidays who live in a snowy climate like me, allow Hollister to keep you warm all winter long. I know I will when I'm in California, Arizona, or Utah! ;)